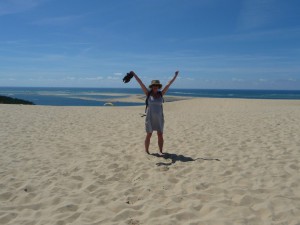 "Let's find the line over and over again"

Advanced Rolferin®, Rolf Movement Practitioner®, Cranio-Sacral Therapeutin, Scarwork,
Mag.a phil.
I am interested in how each human being is connected with the world and is influenced by all her/his experiences, which are shown somehow in the body, in the shape and in the individual movement.
I work as a certified Rolfer since  2005. I have had the chance to get introduced to Rolfing during my basic Rolfing Training by all longterm European Rolfers who have strongly influenced the development of the method: Hubert Godard, Robert Schleip, Peter Schwind, Thomas Meyers, Harvey Burns.
Continuing education is my pleasure and my interest. I have also discovered the visceral and craniosacral work as an important addition.
Besides giving one to one sessions, I'm passsionate in giving Rolf Movement classes.
A collection of meaningful continuing education:
A special thank you to my teachers, who have taught me with so much empathy and personal engagement!
Reach out – Körperbewusstseins Training zur Friedensstiftung, Paul Linden, USA
Winning is healing – Body Awareness and Empowerment for Survivors of Violence, Paul Linden, USA
Pretraining Rolfing SI mit Thomas Meyers USA, Christoph Sommer D, France Hatt F
Fortbildungsreihe Rolf Movement – Bewegung, Struktur und Wahrnehmung mit Hubert Godard, F
Rolfing mit Kindern und Jugendlichen mit Anne Koller-Wilmking, D
Resolving Shoulder, Neck and Arm Pain – long-term resolutions mit Jim Asher, USA
The Evolution of Ida's Vision – Reawakening the Inner Journey mit Gael Ohlgren-Rosenwood, USA
Fascia As a Sensory Organ mit Robert Schleip, D
Core-Stabilisation Including the Visceral Structure mit Liz Gaggini, USA
A Journey Into the Female Pelvis (weibl. Becken) mit Pilar Martin, USA
Advanced Bodybliss Trainerinnen-Ausbildung mit Divo G. Müller, D
Rolf Movement Workshops mit Pierpaola Volpones, Italien
Cranio-Sacral-Harmonizing mit Anja Bader, A
Grund- und Aufbaukurs zur Fascial Fitness Trainerin mit Divo G. Müller, D
Supervisionen zum viszeralen Arbeiten im Rolfing mit dem Osteopathen und adv. Rolfer Thomas Sonnleitner, D
Rolf Movement Certifizierung mit Monica Caspari, Brasilien
Advanced Rolfing Training mit Pedro Prado, Jonathan Martine, Rita Geirola, Italy
Scarwork, Bonework from Sharon Wheeler, USA
Gyrokinesis® Pretraining Manuela Rojko Schranz, A
Integration of the shoulder girdle, Mary Bond, USA
Faszienkongress 2018, Berlin
Dermo-Neuro-Modulation, Rey Allen, USA
Assistant at the  Dr. Ida Rolf Institut Europe
Apprentice Gyrotonic® Trainerin, Ausbildung bei Manuela Rojko Schranz, A
Lung Rehabilitation, Jeffrey Burch, USA